The Suite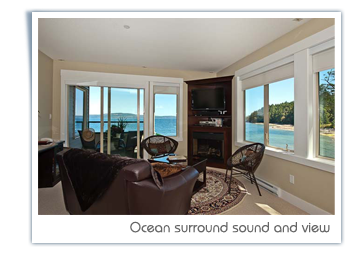 Wow factor, squared! Paradise (as the condo owners have come to call it) is situated on the south east corner of the newly constructed lodge at Inn Of The Sea. This executive suite is a very spacious
953 sq. ft.
, with breathtaking views out each expansive picture window. It has two bedrooms with queen sized beds, and two full bathrooms with heated tile floors. And, just for fun and adventure, the owners have supplied twin sized inflatable mattresses and bedding, to transform the outdoor covered deck into an outdoor sleeping space . Now that's camping!
Two large skylights. One in the kitchen, and one in the master ensuite bathroom. Sunlight floods the suite, yet stays comfortable in summer with cooling ocean breezes.
The kitchen has a stainless steel stove, fridge, microwave and dishwasher, and it is fully equipped for the vacationer who loves to cook. The cupboards are stocked with basic culinary supplies like coffee, tea, sugar, flour, and spices and there are plenty of dishes and cookware to entertain a crowd. The bathrooms and kitchens have granite countertops, with cabinetry in a rich chocolate brown wood.
All cotton sheets and towels will wrap you in comfort, as will the cosy, white fleece house coats.
The master bedroom has spectacular views of sunrises over the ocean. The versatility of a wall bed in this room means that it can also be used as a dining room, meditation oasis, massage room, office, yoga, or exercise room. The second bedroom has a stunning view onto an emerald cove which is fed into by a fresh water stream. Let the joyous harmony of a burbling brook, and the gentle lapping of ocean waves, lull you into a deep and peaceful sleep.
There is quality, oatmeal coloured carpeting throughout, and it is designer decorated with modern, clean lines, and furnishings.
There is a landline phone, cable TV, and high speed internet connection. There is also a printer for renter's use. For the games enthusiast, there is a cupboard full of games from scrabble, to cribbage. There is a 37" flat screen TV positioned over a warming electric fireplace. The media centre has blue ray and an excellent DVD collection.
Racquets and balls are included for guests enjoyment of the tennis court, which is surrounded by stately cedar trees. Great for that extra oxygen boost needed when your partner serves up an ace!
And… if you are looking for one of the best honeymoon destinations in the world, look no further! This unique penthouse suite is romance personified. As a welcoming gesture, couples who book a week long stay, will be treated to a bouquet of fresh cut flowers, and a bottle of wine.
The Floor Plan