Testimonials & Photo Contest
We invite all visitors to
email us
a quote and a favourite photo from your trip to Paradise. Twice a year we will draw testimonial/ photo entries from a basket and the winner will
win a two day rental
. Our first winner was Ola from Vancouver. Picture taken by her husband Mike on a walk through the adjacent Blue Heron park. Congratulations Ola and Mike!
---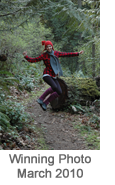 "This was the most romantic getaway ever. Even on our one rainy day we were so cosy inside the condo, and really enjoyed watching the rain and crashing waves. The next night we made a fire in the fire pit. Just an incredible time. Thank you! Thank you!
- Ola and Mike H. from Vancouver.
---
"Great place! Love the view from the suite. Awesome surroundings for my photography WOW! The kitchen was great for all my cooking adventures. It had everything I needed. The suite is brand new and tastefully designed. We will definitely make it a yearly destination!"
- Jessica M., Vancouver
---
"Paradise makes you forget everything!! It is just AMAZINGLY beautiful here.
The suite itself was great. The wrap around view was breath taking. We LOVED it and we will for sure visit again.
- Mani C., Pakistan
---
"Wished we'd been able to stay a week. It's an amazingly beautiful suite, it's brand new, and it's not just beachfront – it's placed right over top of the ocean! The view from every window is breathtaking, and completely private. No other building was even visible – just the ocean and a beautifully wooded point. The apartment itself was so tastefully furnished, stylish and modern but very homey. We loved exploring along the lava rock beach. At night the only sound we heard was the wind and the waves. Heidi and I will stay here again, as often as possible!"
- Brian Musgrove, Vancouver
---
"We have never stayed in a more beautiful place. Literally breathtaking views. We will return again and again! We have found our dream retreat. "
Jim and Gloria Angus, Ontario.
---
"My partner and I thoroughly enjoyed our stay from the moment we arrived. It was a first class experience. My girlfriend was blown away and she will never forget that weekend. I recommend the Paradise penthouse to anyone who wants to get away, and really savour a truly memorable experience."
Jason G, Nanaimo B.C